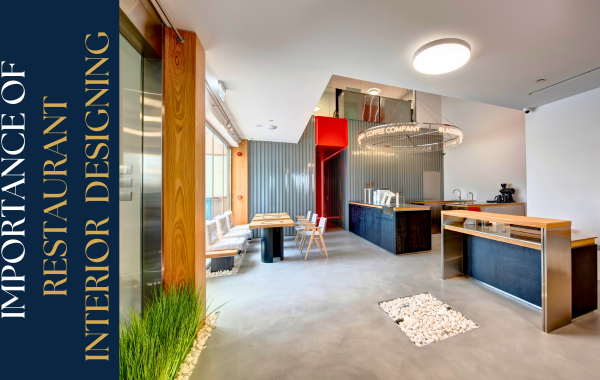 Why is the interior design of restaurants important?
"Good food. Good vine. Good friends. Good times." is what we all want. But is it really possible to enjoy sitting at an ordinary food court? While many of you will say yes, some of you will agree that when eating out, food isn't just the only aspect you are looking for.
In this blog, you will get an in-depth understanding of the importance of the underlying factors, such as the colors and layouts for restaurants, that make your dining experience a one in a million
The Idea of Interior Design
Ever thought about what makes a place worth sticking in your mind for the rest of your life? As much as people and culture have a profound influence on us, it's the interiors of the place that marks an utmost distinction from others, leaving an ever-lasting impact on our memories.Interior design is not just a study or concept; it is a blend of art and science that helps businesses attract customers and provide them with a healthy and aesthetically pleasing atmosphere in return.

The Psychology of Restaurant Interior Design
No wonder why restaurants today spend a hefty amount on their interiors. The restaurant, that's not just made of bricks and stones but rather conceptualized for achieving equilibrium between the food, service, and aesthetics, spends extraordinarily on its interior design to offer a unique setup for friends and families to spend time at.Precisely, there's no second opinion other than this: a restaurant's interior plays a crucial role in determining the dining experience. Knowing how to create an ambiance that complements the menu, architecture, and temperaments of those spending time with their loved ones is no simple feat.
Why Is The Interior Design Of Restaurants Important?
A restaurant's interior design is a critical part of its marketing strategy. The way a restaurant looks will have a direct impact on its branding. The reason why food chains now emphasize their interiors as the top priority is because it is actually the first thing that the customer notices as they walk through the door. No matter how much research your customers have done related to your menu or customer service or how many reviews they took before visiting, the first impression will determine whether they will give it a chance or not.
In the age of social media, each detail is the restaurant's silent salesman. The more aesthetically pleasing the outlet looks in the pictures, the more the chances of people visiting it. Keeping this into consideration, restaurants today give special emphasis on their interior design that makes their space digitally attractive and picturesque.
A good interior design decides whether a place is for the family with kids or grandparents or to enjoy with your spouse or friends because no matter what, you don't want to bring your children to a horror-themed eatery or your parents to a romantically intimate café.
With a sound interior design strategy, you can market your restaurant amongst your target customers very quickly. If you apply anything unique to your interiors, publicize it. People love to be a part of something different and would drive to your restaurant for this reason.

Aspects Involved in Restaurant Interior Design
Now that you have an idea about restaurant interior design and its importance, it's time to shed light on some fundamental aspects of giving your restaurant thoughtfully crafted interiors, including the colors, lighting, architecture, design, and layout. Let's explore what they do.
Colors
The right choice of colors has a lot to do with how your restaurant will turn out. For instance, if you have a small space, choosing bold colors will make it look big. But if the space is ample, consider playing with more neutral colors to evoke a relaxed feeling amongst customers.In addition, choose colors that complement your furniture, accessories, and lighting to ensure a balanced look for your restaurant. Likewise, colors in interior design are imperative in influencing your customer perception as well as in influencing their decision-making.
Architecture, Design & Layout
Architecture, design, and layout is another important aspect of a restaurant's interior design. How you design your floors, walls and place all your décor and accessories defines your eatery's entire look and feel.
Similarly, while designing the architecture, you must have the answer to the following questions in mind:
How spacious should your place be?
How claustrophobic can it be during rush hours?
How much distance should there be between the tables?
All of this and more is dependent on how you design your layout. It's useless to stress the beauty of your walls if your waiters cannot serve well and the customers do not feel comfortable in your space.

Lighting
Whether you're in quest of redefining your interior space or enhancing the overall feel and aura of the restaurant, lighting plays a role as a catalyst in uplifting your entire interior design. With lighting, you can foster a sub-conscious impact on your customers, inducing them to do what you want.
For example, you will see fine dining using dim and ambient lighting, but for what? Certainly, to create a relaxing atmosphere, lingering for hours and eventually ordering more. On the other hand, small cafes would use vibrant lighting for their customers to eat fast due to insufficient space. In short, lighting is essential because it has an impact on your customer's behavior.
The Wrap Up
A restaurant does not have to be big to attract customers. There are many examples of small and cozy places that are over-occupied daily; despite being so tiny, the credit goes to their interior design comprising well-planned seating, a homely environment, and pleasant aesthetics.
While a sound interior can serve as a great brand and marketing strategy, it can make a solid first impression on customers, increasing footfall and positive social media exposure.
At last, the various aspects involved in restaurant interior design, such as colors, architecture, design, layout, and lighting, ensure that we can create unique and memorable spaces that leave a lasting impact on customers.
Exotic Interiors Studio: The All-in-One Solution For Your Restaurant Interiors in Dubai
Are you looking to renovate your restaurant with some thematic interior design that conveys a story? Having a passion for unique culinary aesthetics, Exotic Interiors Studio is restaurant interior designer in Dubai that crafts unforgettable dining experiences through its visionary interior designs. With years of experience, our experts merge creativity with functionality to expand your establishment's horizons.
From intimate bistros to sophisticated fine-dining venues, we imbue each project with unique charm and ambiance, guaranteeing it mirrors the culinary idea of our clients. At Exotic Interiors Studio, we believe that every corner of a restaurant should communicate the restaurant's journey, enticing guests to enjoy the cuisine and the charismatic surroundings.
Exotic Interiors Studio is a leading interior design company in Dubai with expertise in offering reliable and enticing interior designs and templates that guarantee customer interaction and a wholesome shopping experience.
You can consult us or visit our portfolio at Exotic Interiors Studio to get some information about the latest interior design & decor trends.

GIVE US A CALL AT +971 52 542 2227 OR DROP US A MESSAGE AT [email protected]. GET IN TOUCH With us