Introduction:
Interior design trends are the most important thing whenever an architect or designer is working on a project. Because of the reason that it is much similar to the idea that when we talk about overall design the style, colors, fashion or materials which people are mostly liking in that specific period. It is a prerequisite for an architect or interior designer to do a lot of research before starting work on any project to know the latest trends especially the materials to make it appealing according to the latest. The two most important factors that influence interior design trends are culture and the recent happenings of that particular society. Another third factor is the mass media that influences interior designing through magazines, tv shows and fashion programmes.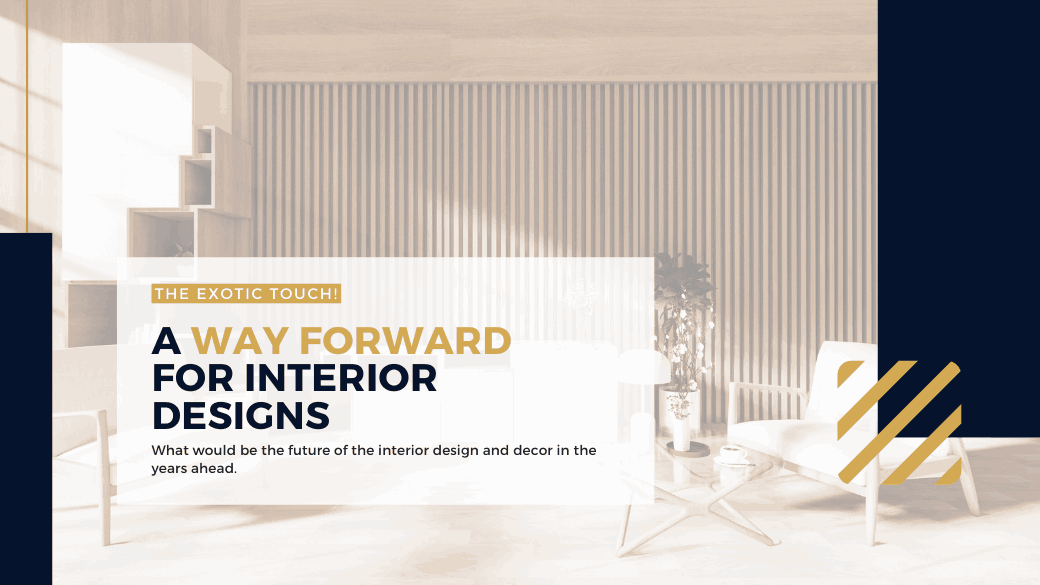 Here's a quick recap of the trends that had been followed in the last year and what would be the future of the interior design and decor in the year ahead highlighted with the help of the sayings of the popular interior designers and architects
1. Kitchen cabinets color trend moving towards brighter side:
In recent year, it was trending to have grey color kitchen cabinets but the year ahead will be focusing on the bright colors most likely to be indigo blue. The green color of cabinets will
also be in trend because it's a mix of yellow and blue color and creates a blend of bright & light color.
According to the Dennese Guadeloupe Rojas:
Gray kitchen interiors can look cold and lack distinction," she said. "Instead, I foresee bolder colors gaining popularity especially indigo blue
2. Throughout white color may disappear this year:
Before it was a trend to paint white color throughout the room or other parts of the house but now the trend will be to maximize the use of colors to make the house completely stunning. Everyone will be focusing on the usage of mixed bright colors or a blend of bright and light textures to change the look of their house.
According to the Rachel Street:
"For a few years now, we've been making everything from walls to countertops bright white," she told Insider. "Next year, I predict people will return to creating visual interest through color."
4. Mid Century furnishing trend will be outdated:
Mid- century modern furniture designs that were in fashion in the last years will be outdated soon the trends of modern furnishing designs will be the focus of the customers.
As Heather Goerzen said:
"We're shifting away from the 'Mad Men' look and spaces dominated by walnut wood, spindle legs, and geometric prints," she said.
5. Accent walls come to an end:
Accent walls will also be coming to an end this year before this every modern home used to have this wall. An accent wall was popular for its distinguished look from other walls in the house by putting wallpaper or by painting it in another way.
As Dennese Guadeloupe said:
"Accent walls can look childish and be too distracting," she told Insider. "We'll hopefully be returning to monochromatic walls that blend seamlessly with the decor without the startling drama of an accent wall."
6. No to matching furnishings in the year ahead:
In recent years, it was complimentary to have matching colors furniture placed in a room but the trend will be out in the coming year and it will be common to have different colors furniture items in a room to have a unique ambient look.
As Kobi Karp said:
"Identical furniture and matching sets don't showcase personal style," he said. "I believe matching sets will soon be seen as a design flaw."
7. Different color Wallpapers will be trending this year:
In the last few years, while renovation painting was the only way to give a house a new look but now the trend will be changed as you can make your new home by only using different designs and colored wallpapers within no time.
As Rojas said:
"Peel- and- stick wallpaper is perfect for an easy and dramatic room change," Rojas said. "You can get creative and simply peel it off when you get tired of it."
As this is a technology- driven era so the new trends will be using more of it to make the interior design and decor more realistic. In this time of social media no one can say anything confidently but after some top interior designer's research and observation it's estimated that
these trends will gain some attention in the coming years. Moreover, you can consult Interior Design specialists at Exotic Interiors Studio to get some information about the latest interior design & decor trends.