Introduction:
Choosing the company for your Interior design projects is one thing, but ensuring the labor to put the best of their skills in the work is another task. We at Exterior Interior Studio admire the passion and creativity of our team that puts their hard work and sweat into making any place ideal for interior design in UAE. So, today, we decided to share the secret factors that make our skillful team be on top of their job ethics. Besides, if you know what makes our team of interior designers and labor special, you will be happy to have them for your next project.
While interior designers at EIS help people with cosmetic changes, the labors are the one that carries it out and makes your dreams come true.
So, how our team is a perfect choice for your next big project?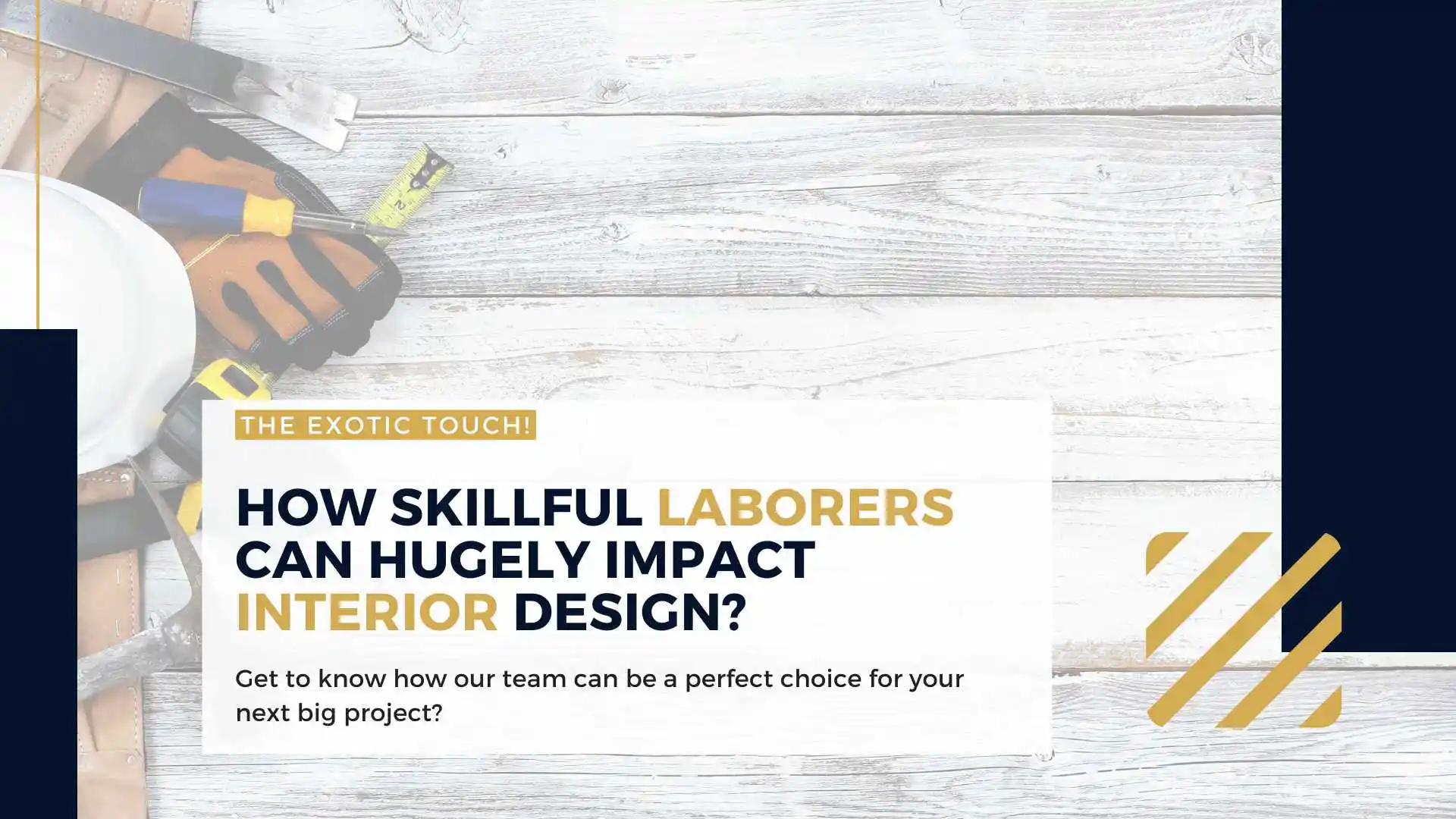 The labor we have to work on your office or home design brings interior designs to reality by maintaining the best of their professionalism. They will fully understand your requirements, gather the list of equipment required for fit-out and designing services ad work closely with the CAD professionals. The team collaborates throughout the project and gives you tremendously amazing cosmetic results at the end. Meanwhile, any changes made in the design are never turned down. We understand the need to replace an idea with another one that may be more impactful for the final finish.
Our labor is not only to implement the design, the team works the designs with the team of designers and has their creative ideas. If your project is something that needs some run-time improvements, our labor is happy to help you with your creative ideas. They will share their experience and skillful mind to make sure that you get the ultimate exotic touch. So, whether it is about the colors, the style, or the design of your cabinet, with this much creative ability, you can achieve anything
While working with both residential and commercial clients from UAE, UK and KSA, we understand the scheduling can completely change. Our team doesn't shy from managing their time according to the client's feasibility. Besides, having a separate crew for each project always gives us a margin to ensure that if needed, they are ready to change the schedule of the day. Moreover, interior designing is not a one-time job and we are talking about the designers and the workers both. Both have to give their dedicated time to satisfy the client fulfilling their needs. So, we at Exotic Interior Studio have an amazing crew when it comes to the flexibility factor
All of our team and labor is certified for the job tasks. They are verified workers and always aware and trained to work amazingly on your project. The training is given by experts and every worker has the license that gives you more to rely on us for the fit-out services
At Exotic Interior studio, we believe that life is beautiful if you have exceptional surroundings. People flourish and grow even better if they are provided with the perfect environment and nothing can make it better than an appealing interior design. So, to give your place, office, or villa a luxury look, you must hire a professional and reliable team. Our team adds value throughout the project from designing, fit-out services to the final implementation of all the ideas. All you have to do is to reach us out and we will gather all your requirements and work to make it happen.
FOR MORE DESIGN INSPIRATIONS YOU CAN CONTACT OUR EXPERTS WHO CAN HELP YOU FIND THE RIGHT DESIGN IDEAS FOR YOUR RESTAURANT. FEEL FREE TO CONTACT US,
GIVE US A CALL AT 052 542 2227 OR DROP US A MESSAGE AT [email protected]. GET IN TOUCH WITH US TODAY!